Brian Nix has everything you need for your antique phonograph or vintage gramophone
Needles for Sale
Soft and loud tone steel needles in packs of 100;
Long playing steel needles;
Edison sapphire and diamond needles;
Pathé needles;
Needle tin boxes;
Other needles available.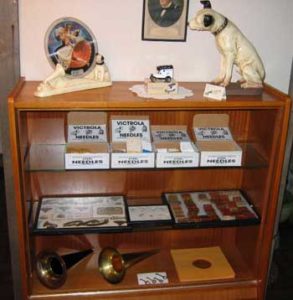 Other Services Offered
Wood grilles made if a pattern is available;
New grille cloth installation;
New felt on turntable;
Pin striping of bedplate;
Strip and repaint bedplate;
Make cabinet doors;
Make drawers for Edison 75.
Brian Nix can refurbish your antique phonograph.
Many times he can rework the old finish which removes old dirt and brings out the natural grain without stripping. In this photograph (right) there were 3 broken feet but we were able to refurbish new feet making the item as it was originally.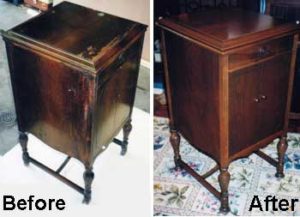 Let Brian Nix refinish your beloved antique phonograph
If you wish to have your cabinet refinished, everything is dismantled, all hardware is removed, repairs are done if needed, cabinet is stripped (stripper does not affect glue), stained if necessary, three coats of hand rubbed semi-gloss polyurethane finish and reassembled.